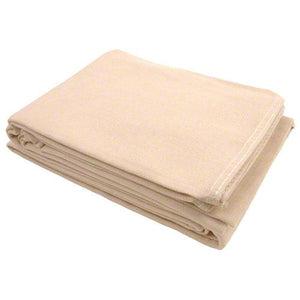 Sigman 4' x 15' Canvas Drop Cloth 12 OZ
Sigman 4' x 15' 12 oz Canvas Drop Cloth. Super absorbent and keeps paint from tracking. Ideal for painting and cleaning, wallpapering and removal, leaf collection as well as absorbing spills. Full panel drop cloths are made from high quality canvas. Hems and seams are double stitched. Each drop cloth is shrink wrapped for easy handling. Custom size drop cloth available. Canvas drop cloths are washable and reusable. Heavy Duty Canvas Drop Cloth can be used for many applications. Most popular use is for painter's dropcloths. Protects floors and furnitures from paint spills.
Fabric Weight: 12 oz / sq. yard.
Quanity / Pack: 12
Premium weight canvas drop cloth ideal for painting projects, job site protection and machinery dust and debris protections.
WarningDrop cloth size is cut size. Drop cloth finished size is up to 3% or 6" smaller, whichever larger.
Color is natural cotton canvas beige or off white color (not bleached white).
Popular for painters and painting projects
WarningDrop cloth may have seams.
Drop cloth has no grommets
Warning: Canvas drop cloths will not stop paint from soaking through as it is made of untreated natural cotton fabric. To protect from paint soaking through and paint spills, please consider Sigman butyl drop cloths, Sigman tarps or sigman plastic sheetings.
Warning: This product is construction painters' drop cloth. The canvas fabric is construction grade and is neither garment grade nor art canvas grade.
Warning: This construction painters drop cloth's color temperature or shade is NOT guaranteed. The color may vary from piece to piece. Not recommended for photography backgrounds.
Where to Buy
Special Order
---
We Also Recommend
---