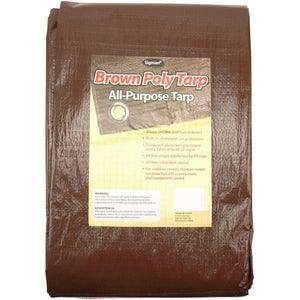 Sigman 12' x 24' Brown Economy Tarp
Sigman 12' x 24' Brown Economy Tarp is made from woven reinforced polyethylene fabric. 5 MIL thickness. Thicker than those super thin blue tarps. Waterproof and UV resistant. Full finished size. Grommet every 3 ft.
Sigman brown economy poly tarp is thicker and heavier than other super thin tarps. Light weight and versatile!
Tarp Size: 12 ft x 24 ft
Fabric Thickness: 5 MIL
Fabric Weight: 2.4 oz / sq. yd.
Fabric Weave Count: 8 x 8
Grommet Spacing: 3 feet approximately
Quantity Per Pack: 5
UV resistant coating on both sides
Brown economy tarps have Heat Sealed Seams and Rope Reinforced Hems
Waterproof. Mildew resistant. Rot resistant. Tear and Acid Resistant
Sigman brown economy tarps have arctic flexibility
Sigman brown economy tarp size is Finished Size. A finished size tarp is typically within 1 to 3 inches of its nominal sizes.
Sigman brown economy tarps are popular for temporary roof tarps, construction tarps, landscaping tarps, and woodpile tarps, camping tarps or any other places where cheap tarps are needed as a temporary or short-term solution.
Where to Buy
Special Order
---
We Also Recommend
---